Custom Cardboard Boxes with Quick Turnaround & Shipping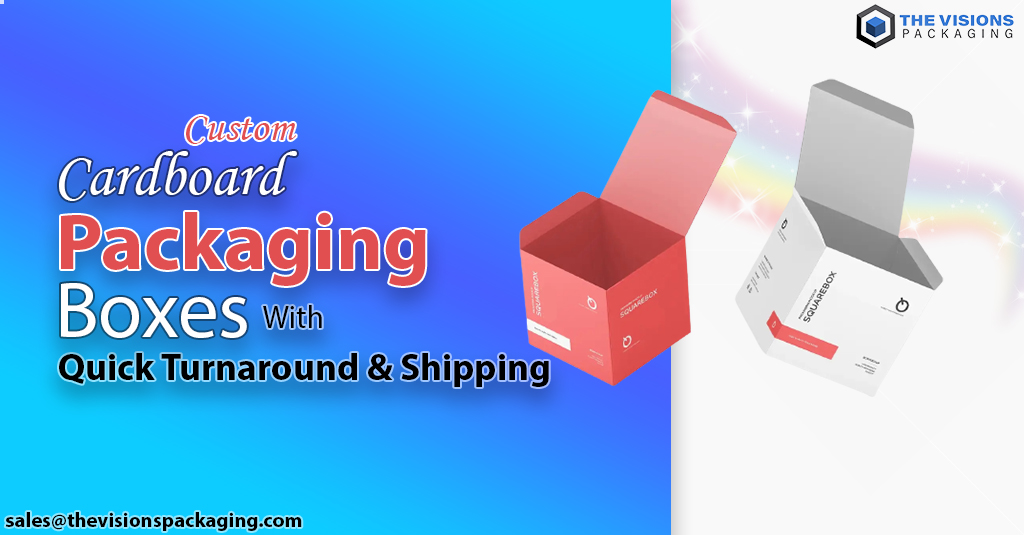 The packaging business is becoming more familiar with custom cardboard boxes for packing. Using these Custom Cardboard Boxes is the most cost-effective and straightforward way to establish your brand in the packaging area. You can use these handcrafted cardboard boxes to ship and store things safely. These packaging boxes are helpful in a variety of situations in our daily lives. They play an important role in retail packaging. They can deliver cargo and fragile objects efficiently and safely. To secure and maintain your items, you can create printed cardboard boxes in various ways. To handle a product may require additional protection in its package.
Our sturdy Custom Packaging is ideal for storing your most oversized items and heaviest loads. You must be wondering what material we use while making these boxes. Right? We always use strong, environmentally friendly corrugated cardboard that can protect your customers' orders. Therefore, The Visions Packaging offers Custom Cardboard boxes in any form, size, style, or color at an affordable price. These boxes will fit your products well. While also giving your company a professional appearance. We can make any box you can imagine. All at a fantastic deal!
Create Your Own Custom Printed Cardboard Boxes for Free
Create your custom printed cardboard boxes with various materials and colors. Furthermore, We can create Cardboard Custom boxes to your exact specifications. These handmade cardboard boxes are a lot more durable than regular cardboard boxes.  We make our custom boxes to last long. Furthermore, these boxes won't break down under typical situations. Furthermore, you may use your imagination to create your box with accessible customization possibilities. You can alter the outside of the box, but you can also change the inside. You can also submit your company's logo, photographs, messages, and graphics.
To develop unique printed cardboard boxes that suit your product's requirements. So, if you're looking for custom printed cardboard boxes, The Visions Packaging is the place to go. We sell cardboard boxes composed of full corrugated boards with double-stick tape to ensure that they last a long time. Small, medium, big, giant, and extra-large are among the styles available. We also offer a variety of custom boxes, including custom mailer boxes, custom packaging boxes, and display boxes. They are environmentally friendly and provide a wide range of custom printing options.
As a result, we give you unlimited powers to create your custom packaging boxes. We offer a wide range of customizing options. And we'll take care of the production so you can focus on what's most important to you.s So call us at +1 510 230 0891 to place your orders.
Cardboard Packaging Boxes Wholesale in Any Size, Shape, or Design
Whether you're shipping a delicate sculpture, trying to send gadgets, or showcasing your items on a store display, there are a few things to keep in mind. Our cardboard packaging wholesale will both protect and impress.
We provide the broadest range of sizes and styles to meet your requirements. To package practically anything, choose from classic kraft or specialty-shaped choices. The custom mailer boxes are ideal for shipping, storing, displaying, and selling products, equipment, and other items.
Why Choose Us?
In the United States, we are the leading packaging solution provider for small and medium businesses. Our goal is to serve all companies with high-quality corrugated boxes regardless of size. As a result, our list of packages includes a variety of sizes and patterns.
Furthermore, we also offer full customization of cardboard boxes wholesale, including size, design, and any printing, for orders of 1000 boxes or more. Our goal is to bring value to your business by suggesting packaging designs that will enhance sales, protect your goods, and even contribute to your environmental goals by providing recycled and recyclable options.
The Visions Packaging is the place to go if you're a startup seeking to get off the ground, someone establishing a home business, or someone looking for the perfect gift, mailer, or shifting boxes.
Contact Us:
As the top packaging company in the United States, our goal at The Visions Packaging is to give the most excellent quality boxes and services to our customers all across the United States. We provide a large selection of ready-to-pick-up packages for packing gifts, food, garments, and ornamental objects.
Custom Cardboard boxes are the appropriate alternatives for protection, especially when dealing with larger objects. They're thick, sturdy, and safe, plus they'll also look beautiful! Therefore, please contact our Customer Service Team if you have any questions or require additional assistance. Our company is always eager to work with new customers. So, do not waste more time and order custom packaging for your product. Please leave a message, and we will contact you as soon as possible! Our contact number is +1 510 230 0891, and our email is sales@thevisionspackaging.com.