What is the meaning of CBD in Food packaging?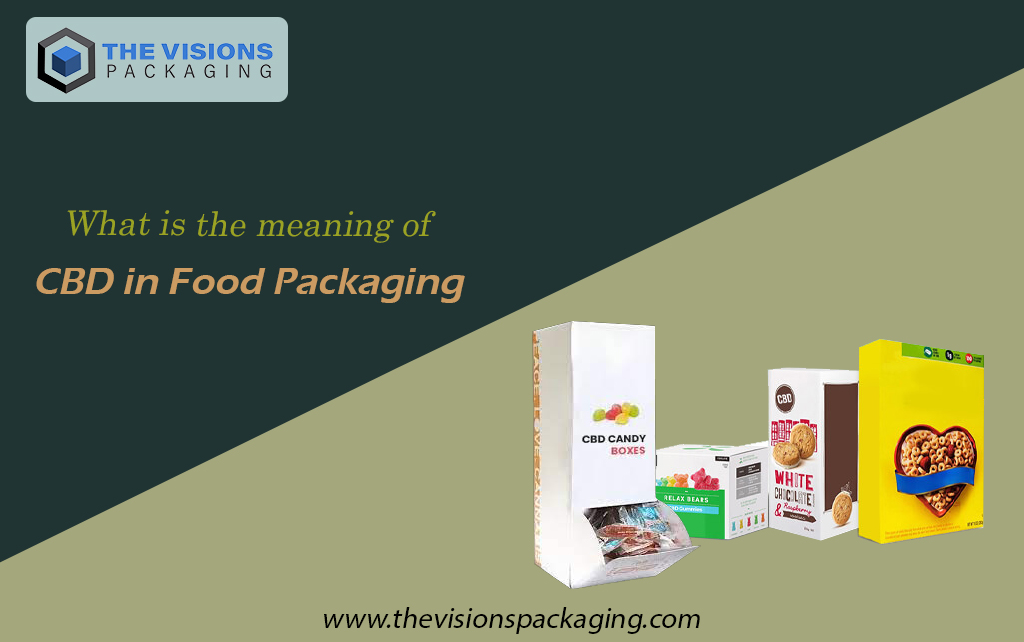 CBD products offer several advantages, which include pain alleviation, mood and sleep enhancements, and many more.
The product is incomplete and unable to compete in the market without packaging. Every item has specific packaging needs. Different things may have additional requirements. It is essential in the case of CBD products because they are more delicate.
Customers must therefore inspect the products' quality before purchasing them. The good news is that once you've created Custom CBD Printed Boxes & Packaging with Logo packaging, you may eventually market your CBD products.
Different CBD Product Types:
Although in the beginning, the only available CBD products were glass bottles of oils or tinctures. Since then, in addition to more conventional vitamins, oils, and other wellness goods, the product selection has grown to include consumables, topicals, and beverages.
We need different and unique packaging designs Because of the wide variety of CBD products on the market. Each kind of packaging aims to maintain the quality of products.
The following are some of the most popular CBD product categories on the market:
Goods for personal cosmetics and hygiene.
Due to the oil's rumored capacity to reduce inflammation and acne, skincare products are where CBD is most frequently found in the cosmetics business.
The most common packaging choices for CBD skincare products are tubs, tubes, jars, and pumps because fortified lotions, creams, and gels are some of the most straightforward delivery systems for the substance.
Balms and hair care products are additional healthcare items; plastic tubes and spray bottles might be preferable in these cases.
Tinctures and oils. Oils and tinctures are still prevalent, and there are a variety of potencies, tastes, and aromas to choose from.
Supplements:
For consuming CBD, tablets and capsules provide a practical and handy choice. You can use Bottles or blister packaging boxes for these types of products.
This category also includes gummies, which, like gummy multivitamins, can come in bottles or bags.
Beverages:
Although home-mixed CBD drinks are familiar to long-time CBD consumers, the nutraceutical market for prepackaged beverage alternatives is relatively new. Alcoholic beverages, fluids, and energy drinks with CBD can now be bought legally.
Packaging choices for companies that make these items include glass, plastic, or metal bottles, cans, pouches, and pouches.
Snacks:
The snack food business presents an opportunity for innovative CBD delivery innovation. CBD candies, bars, and cereals are all available from snack food distributors, and they may all be put into different wraps, pouches, or jars.
Pet care:
CBD pet care is a developing industry focusing on treats and dietary supplements. These items resemble their human-designed counterparts, including snacks, butter, capsules, and transdermal therapies packaged in jars, pouches, and wraps.
Focus on the Right Packaging Material:
This is always the paramount consideration when considering packaging boxes. It would help if you met your customer's needs with your packaging. For this reason, you must select packaging materials that go well with your CBD goods.
Customers desire products of the highest caliber. Therefore, don't think about the packaging boxes or the ingredients used in your goods. The best materials can protect the security of your CBD product and increase its lifespan.
Materials You Can Use:
CBD containers wholesale are available in a variety of materials. The most desired are:
Cardboard

Kraft

Corrugated

Rigid
These components assure the quality of your goods so that our customers get the most out of the products. You can use custom-designed rigid crates for added security.
Customers always want to see excellent packaging; thus, attractive design is essential. It would help if you offered eye-catching designs that satisfy the needs of your devoted clients. However, the design of your CBD wholesale boxes should promote your company's name and products. To design your packages this way, employ a branding-focused design and the right colors.
Demand Is Growing For Creatively Printed CBD Boxes
Printing packaging boxes are just as crucial as the color scheme you select for your brand. Your packages may break if you don't publish them. Thanks to the CBD display boxes' cutting-edge design, you may develop connections with your customers. Additionally, these boxes assist in educating people regarding the advantages of your CBD products.
The most crucial factor is that fashionable printing will give your containers a more distinctive appearance. The unique color schemes, dynamic photos, and vivid descriptions highlight the outstanding quality of your CBD products.
Advantages of Personalized CBD Labels and Packaging
You still cannot gain more customers if you produce or sell high-quality goods. Then, you should start working on your product packaging boxes.
Your packing plays a vital role in attracting more customers. Many companies sell almost the same things, so you should pack your products uniquely.
Keep reading to learn more about the advantages of bespoke CBD packaging and to make sure you don't lose out on a chance to expand your business.
Attracts Your Clients' Attention:
You can quickly grab customers' attention with personalized CBD packaging. Remember that you can gain more customers by using eye-grabbing and attractive designs.
You should ensure that all of these aspects are in good working order because the colors, printing, designs, and textures impact the presentation as a whole.
develops a relationship and trust
Building a more intimate relationship with your customers is a significant advantage of acquiring vape boxes from a reliable supplier. Clients will buy from you if you satisfy their needs by providing their products in a sturdy box.
Enhances Your Brand
Most significantly, customized food boxes are essential to set your business out from the competition. For instance, if you want people to associate your company with being environmentally friendly, then the labels, packaging, colors, and layouts should do so.
To still draw in more customers while giving your company a more professional appearance, all elements should look attractive rather than boring. You may preserve your brand's identity while getting a competitive advantage over your rivals by working with reputable businesses.
Attractive design:
Use your imagination to differentiate yourself from competitors. Inform the packaging business of your design and allow them to create your CBD packaging. To make your package more appealing, utilize bright colors.
For your unique design, die-cuts and various laminates and varnishes are available. Directly address your target audience and persuade them with a compelling presentation.
High-quality CBD Packaging:
Choosing the finest material for CBD packaging isn't difficult because it's simple to identify packaging businesses. By providing sturdy and environmentally responsible packing materials, they ultimately secure your packaged goods.
There are various material choices, including cardboard, Kraft, and corrugated. You can pick packaging material according to your needs.
Generally lightweight and used for packing a variety of commodities is recyclable Kraft. Your goods won't break during transit thanks to the muscular strength of the cardboard material.
Improve Your Company's Reputation in the Tough CBD Market:
Food boxes are the perfect choice if you are new to the food industry and need to boost your company's visibility. In addition to guaranteeing the security of your items, custom boxes also support the growth of your business's brand in a cutthroat market.
On these packing boxes, you may appealingly design your company's logo, making it easier for your target market to identify your brand's items on store shelves.