Embossing Vs Debossing A Major Part of The Printing Industry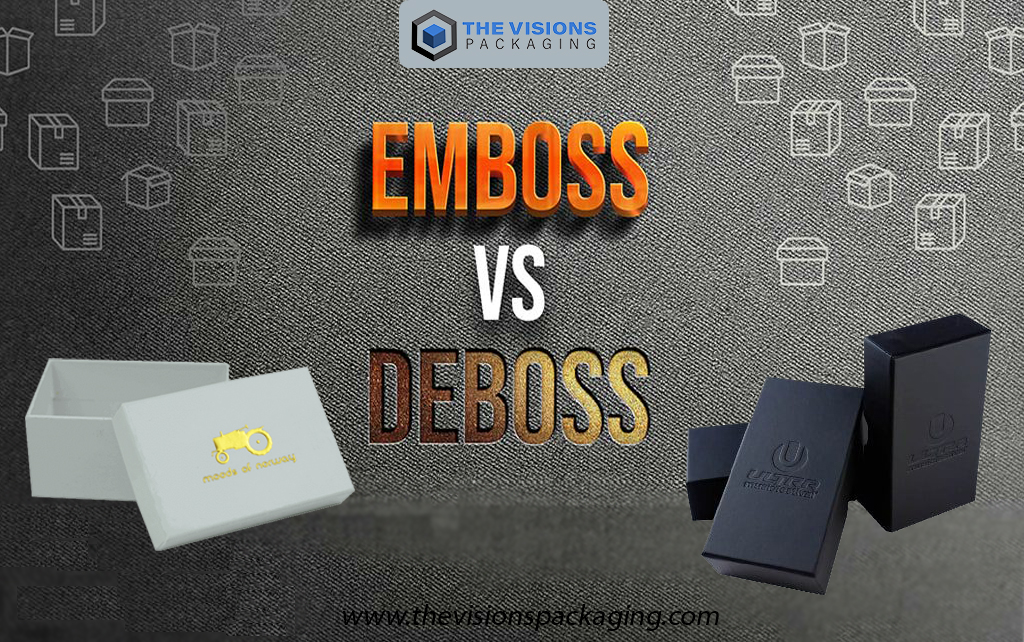 Embossing and Debossing are becoming more popular in modern designs, as the simple yet effective style of highlighting key information gives a newer and trendier look. You can also incorporate these designs with other effects, such as foiling or using different coatings to create a more lavish final design, or they can be left as is in blind embossing.
What Is Embossing?
This effect makes the content or any line drawing appear as coming from the page near us. This is done using PVC blocks, the content printed on paper. They use a Letterpress machine for punching from the backside of the page.
Companies use these on the cover of any book. The punching is done using more advanced electronically controlled machines with no vibration, making a sharp emboss of the content.
Read More: Bath Bomb Packaging Boxes
Different Types of Embossing
Single Level Embossing
The design is raised from the chosen material.
Multi-Level Embossing
The design may be raised in stages from the material, or there is a different level raised behind the design.
Blind Embossing
It does not include any dye or color in the embossing.
Registered Embossing
This is when, together with the embossing, another element is added, such as ink or foil, before pressing.
Combination Embossing
This uses dies in combination to emboss and foil stamp simultaneously.
Pastelling Embossing
Also known as tint leaf embossing, this style creates an antique or weathered look.
Glazing Embossing
They add a glossy finish over the embossed design or text. It gives it a shiny look.
Scorching Embossing
When the dies are superheated, the design or text stands out more than in usual embossing.
What Is Debossing?
Contrary to embossing, debossing is the process of imprinting a design into the printing to create a recessed effect. Like embossing, you can fill this with either ink or foil for a colorful product. It can also be left as it is for a more elegant style. An advantage to debossing over embossing is that it doesn't impact the look of the back side of the printing surface, leaving both sides completely functional without having to make any concessions.
What Is the Process?
The embossing process starts with the die, made up of two metal plates on the front and back (also known as a counter die). The paper is then sandwiched between the metal plates. Manufacturers can make die by hand-tooling, photo etching, or routering the logo or image onto the plates. 
Then they place the plates with the printing surface between them, and the male on the bottom and the female die on top. This is the opposite of debossing, with the female acting as the counter-die to the male on top. Then they push the plates into the printing surface, which uses heat and pressure to create a reserve of the logo or image.
The Key Benefits of Embossing and Debossing
Draws Attention
The tactile experience and the visual effect help to focus the viewer or reader's attention on the most important information, whether a company name, logo, or initials on a customized notebook.
Adds Texture
The effect of touch on dealing materials and extravagant items can be incredibly fascinating to anyone handling them. It also guarantees that it will make a company stand out amongst competitors.
Increases Perceived Value
Embossed or debossed products are more visually and physically attractive. As well as, they convey a much higher sensed value due to the finish quality.
Visit: Custom Printed Pillow Boxes
Things To Consider Before Embossing and Debossing
Use Vectored Artwork
Vector files use mathematical rules and measurements in the formulation. Therefore, anyone can resize them easily without compromising the quality. Using vector artwork is key to providing the smoothest finish on an embossed or debossed product.
Be Selective
The essential aspect of embossing or debossing is drawing attention to the printed surface's fundamental elements. Hence, it is better off being used as an accent for specific pieces of information. In the end, there are no hard-and-fast rules to follow.
Keep It Simple
Due to the plates and dimensionality of embossing and debossing, it is best to use more uncomplicated artwork and imagery. Unfortunately, embossing and debossing can distort the coloring and shading.
Heavier Works Better
Heavier card stocks tend to construct the most convincing pieces of debossing or embossing. This is the case for more detailed die patterns, as heavier stocks and thicker materials better highlight the design.
Consider the Back
This is more so for embossed items, as embossed patterns affect the design on the back of the printing surface. This is not an all-time rule and could provide the opportunity for more creative visuals to surround both sides.
Where You Can Use Embossing and Debossing?
Companies use both debossing and embossing for aesthetic purposes. For example, they use embossing in credit cards to Braille books, while they use both techniques in invitations, business cards, stationery, leather, and another product packaging. So, companies do not use them on every day, ordinary products, and materials.
They help improve the product's enticement to potential customers. So, they are elements you should consider when designing your printed products. Music artists use these techniques for their CD covers, even in this digital age. It helps to make artists look more specified. 
Other Places That Use Embossing and Debossing
Cosmetic industries primarily use these methods for their product packaging because it makes the product feel more elegant and expensive. Other options for embossing and debossing include books, bottles, business cards, leather, greeting cards, letterheads, invites, envelopes, and bespoke packaging.
Design Tips for Embossing and Debossing
You should use a simple, uncluttered design. Moreover, avoid complex details, particularly with fonts and logos. Also, the imprint will affect any image printed on the reverse side, so it is best to make this a design component or leave the imprinted area blank. 
Use embossing and debossing only to emphasize part of the design, such as a logo, border, or repetitive element. Lastly, choose a medium-weight, softer stock.
Conclusion
Overall using finishing techniques like embossing and debossing is an easy way to elevate your branding and progress your packaging design to the next level.